So thanks to GaryK posting the full sheet layout of all his parts, Wes and I were able to cut out Gary's version of Daniel's new scanner this morning. This was done at Gaston and Wyatt in Charlottesville, Virginia. We're an architectural millwork firm supplying custom doors, windows, mouldings (my specialty), and just about anything for high end residential jobs and historic homes primarily on the Eastern seaboard. The firm's owner, Rick Wyatt donated a wonderful sheet of 3/4 thick baltic birch 4 X 8 plywood left over from an auditorium we had supplied panels for. It's beautiful stuff, a whole lot of plies, painted red on one side. It seemed especially cool for no reason I can quite put my finger on.
I guess it makes it all look like it came from Ikea...
That was real nice of Rick. Our cost per sheet is well over $100
Wes Leach programmed the machine for a case of beer. Here's what it looked like with the vacuum hold down on just before cutting: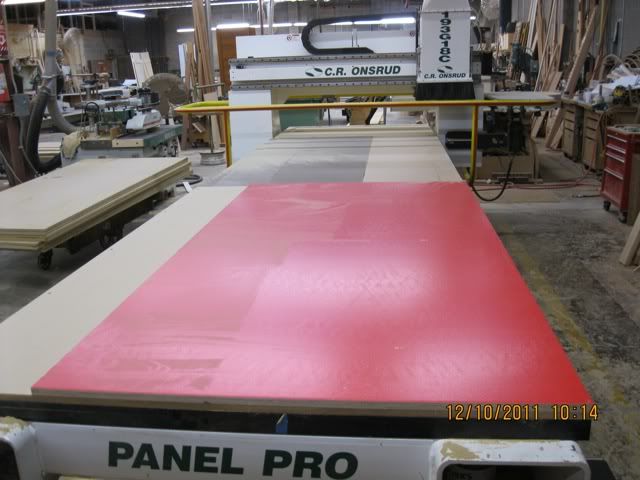 We used a solid carbide combination up and down sheer bit. Here we are just beginning the program. The diagonal cuts are the grooves for the glass: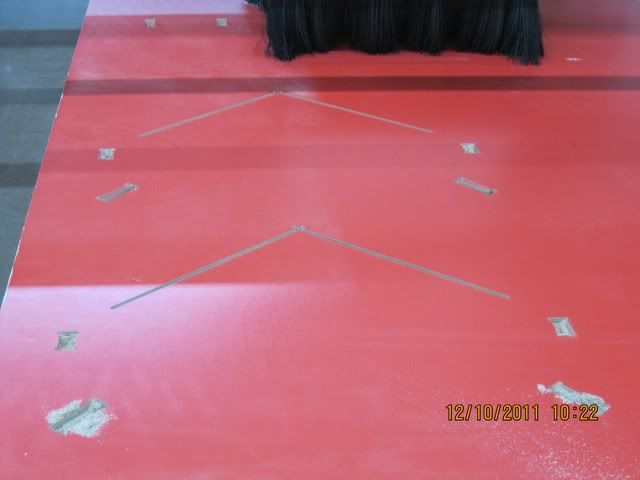 A few minutes later we were all cut out:
And not long after that I began grouping the parts together.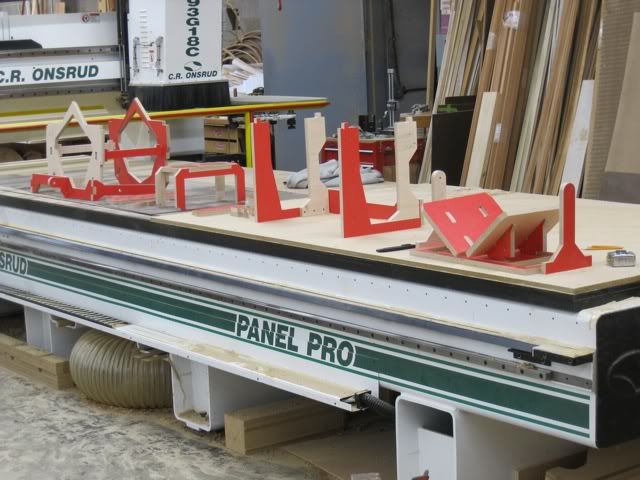 I decided that for this go around, I would simply have the machine cut the pass through holes for the parts housing the skateboard bearings. I have an idea I'm dying to try out for a simple drill press jig that would eliminate the need fixturing cut outs. Similarly, I decided to dispense with a number of the other rabs and dados because I was interested in experimenting with different ideas. Then too, I needed to bother Wes as little as possible and get on and off an expensive machine quickly. Besides what you see here, there's a room full of vacuum pumps and a three story high dust collector running outside. It's considered good form to take all this into account.
Once again, a great design from Daniel, and many thanks to GaryK for uploading his version and going the extra mile by laying all the parts out. It wouldn't have happened without both of you, not to mention dbmoura's wonderful sketchup drawings that I'm always referring to. It also wouldn't have happened without Rick Wyatt loaning us a half million dollars of machinery for fun on a Saturday morning. Thanks, Rick. All of you rock.
I took some video. I'll try to get it up on youtube but I've never done that so it may take a couple of days. Off to get skateboard bearings and other fasteners. Also am dog tired.
Cheers, Charles Morrill